Make cards for soldiers. You can send tome to organiztions that are collect them. They will be delivered to veterans, bases, overseas, and hospitals
Everyone is invited to send their greetings...make it a town wide activity.
CLICK HERE TO ORDER HOLIDAY PAPER TO CREATE YOUR CARDS -- ONLY $1.00 [makes 12 cards]
**Make your own or store bought...no glitter - cards with glitter CAN NOT be sent in the care package.
*No puffy paint.
**No envelopes. Cards with winter scenes or a Happy Holidays message are really the better choice as we do not know the religion of the recipient.
**** Many cards are needed - thousands. Please ask your friends, family, etc. to sign some too.
**Don't forget when you create your card please only sign your first names only. Handmade cards are more personal!
Mail your cards to the below addresses:
Diane Schneider
12 Wave Lane
Carolina Shores, NC 28467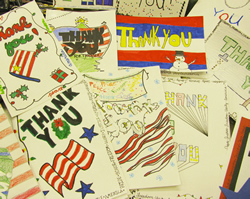 We do not support or endorse any of the companies or organizations. We list them only for your reference.
TEMPLATE FOR HOLIDAY CARDS You can print the template on cardstock or paper and fold them in half for decorations.