Welcome to Patchwork Designs, Incorporated. We create embroidered patches, patch programs, activity kits, and embroidered merchandise for scouting, schools, historical buildings, museums, organizations, and special events.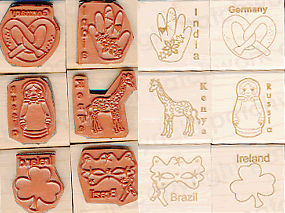 Use our rubber stamps to create swaps, stamp passports, t-shirts, bandanas, hats, tote bags, etc.

Click on each country below to view the stamp.
* Country Patch is not available for purchase
Check out our complete list on our online store. Click here
CUSTOM STAMP [Name of country or item under comments]

WE CAN CREATE A SPECIAL STAMP JUST FOR YOU. WOODEN ONE INCH RUBBER STAMP. If you don't see a country/state rubber stamp you need, place this item in your card and type under comments when you check out name the country/state you need. We will create it for you for the same price as the instock country stamps.

Allow 1-2 weeks for delivery of a custom stamp. Other special designs or logos on stamps contact orders@patchworkdesigns.net and let us know what you would like on your stamp or send us an image.

Thinking Day
Instructional Book
Instructional book includes information on how to plan your thinking day from start to finish. Ideas for swaps, how to create a flag and a passport. Sign up sheets for jobs and registration, participant guide, event coordinator guide, and much more!! (38 pages) Item# 3117: $4.99

Patch Program book
Order this booklet and all the patch programs we offer will be at your fingertips. OVER 150 pages of information!

Item # 5555 Only $6.50

Thinking Day Patches
Order this patch after you learn about your country!

Item # THINK-13 Only $1.50

Only $1.35 for over 50 pieces purchased.